Saudi VPS
No doubts, server virtualization is one of highest level of invention in Computing networking but the best technique is KVM. Also for the purpose of lowering down the latency, destination matters. Other parts are the secure, reliable DC networking through latest and modern quality hardware. Availability of operating systems and efficient support take the infrastructure to top position. So in view of all above points when you are here to compare and buy a Saudi VPS Server Hosting, we are privileged to mention that you will get all the extra ordinary whether it is about the virtualization criteria, Internet speed and carrier, networking reliability, Windows or Linux OS, Availability of super admin access with server provisioning or class after sales support. Not only this but our main goal is to Lower down TTL and Latency, specifically in Saudi Arabia Country and contrarily in who Arab world so that you can attain the goal of ordering a Riyadh based virtual private server.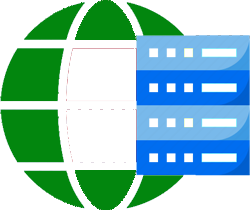 2GBPs DDOS Mitigation
100 Mbps Internet Port
ZAIN as ISP
Tier III DC
Super User Access
Hard Reboot
Legalize in KSA
Free unlimited OS Re-Install
Quick Provisioning
Process to order KSA VPS
To join the Saudi and Arab community physically or virtually for online appearance as dedicated user in lesser budget, you can follow few steps to order a live machine powered from Riyadh data center.
---
Pricing for KSA VPS Plans
Browse various Linux and windows based virtual private server plans, all of them have different resources and prices. You can purchase and lease our best plans today with few clicks. Different preferred payment forms are available for your convenient check out. You can continuously improve your business performance with our intelligent way of work. We have sales and distribution professionals, including problem-solving, assembly and manufacture of various easy management scripts. There are many cost-effective and reliable plans available for use in Saudi Arabia, including cheap and modern VPS systems.
vCPU
RAM
SSD Storage
Bandwidth
Price
01
1 GB
30 GB
250 GB

$23

/ Month
Order Now
01
2 GB
50 GB
250 GB

$39

/ Month
Buy Now
02
2 GB
60 GB
250 GB

$69

/ Month
Buy Now
02
4 GB
80 GB
250 GB

$83

/ Month
Buy Now
02
8 GB
80 GB
250 GB

$99

/ Month
Buy Now
04
8 GB
100 GB
500 GB

$139

/ Month
Buy Now
If you feel that Saudi Arabia is not a territory which can fill your latancy needs then you may consider other relevant origins like UAE VPS Hosting and Pakistan VPS Servers which can be the alternate for current location.
---
Adaptability
We have been managing extremely stable VPS servers with many years of hosting experience. All our servers are connected with the latest hardware and software.
Backup
As per our client convenience we established best backup plans for Saudi Arabia We know that if the network operates critical applications, you cannot afford to go offline. For this type of situation, we have provided strong availability for all our VPS servers. We guarantee your server to keep 100% uptime available for all purposes.
Security Defense
We have next-generation firewalls, intrusion prevention, web application defense, DDoS protection, malware and virus prevention. We have SSL, IP and spam filtering.
Fast Deployment
We established a best deployment infrastructure for our Saudi clients .The hardware and software highlights you rely upon during your requests are moved to our VPS Server facility around the same time.
Technical Support
We also help our customers with our technical support. Via technology, we are able to offer interaction solutions through a professional IT group. We have the experience and can effectively solve any problem.
Control Panel
We design best and easy to use interfaces that Control panels make your database and the programs that you run on it much easier to manage. Easy to navigate and with a wide range of incredibly powerful integrated management tools. We have a screenshot of the Windows and Linux servers.
VPS Hosting Saudi Arabia
Our Hosting company in Saudi Arabia offers customized settings for Virtual Machines. Reliability, software maintenance, and efficiency if fully enhanced under organized and legalized system. You can find special criteria and strategies to help you build an online business once you start it under our hosting environment. The Linux / Windows OS, Broad Bandwidth, Multi core CPU functions and large drives are given, as per your requirements. The true and successful VPS hosting services in Saudi Arabia are available at cheap cost. Flexibility of re-installing any available version of operating system as per your desires at any time of subscription. In business and client, data center and cloud systems, high-performance HPC versions (or 64-bit processors) including Windows Server OS or Linux are available. You could actually bring your business and website up to 20 times quicker than other hosting providers with our high-performance server and Turbo technology. The ability to have total control over your server is another important requirement, so you can now set up your server that fits your requirements. You have full default SSH / RDP root access in VPS solution you will buy from us. Also the fact of Power backups, alternate internet carriers with multiple IP ranges, SuperMicro Server Hardware and accurate switches may make you comfortable to acquire and host your machines with us.
Equipped Your Server by Addons
With your Hosting Account, vpsandserver gives you the opportunity to avail some unique "Addons" feature to add to your VPS hosting package. You can attain maximum specifications with minimum pricing. Though it will not be possible to increase any element like Ram, Disk space etc. once after provisioning so you should better add them while placing your current order. The other way is to shift your whole data of old low resourced container to newly ordered machine for gaining more resources than you currently have.
Available Addons in KSA DC

| Upgrade | Price |
| --- | --- |
| cPanel / WHM | $21.00 (5 Domains) / Month |
| Plesk Obsidian | $16.00 / Month |
| 500 GB Additional Bandwidth | $225.00 / Month |
| 1 Extra Dedicated IP Address | $15.00 / Month |
---
VPS Saudi Arabia Questions and Answers
Where is data center located in Saudi Arabia?
For delivering instances as per your orders, we have data center located in Riyadh, the capital city of KSA.
May i have an IP to test latency?
Yes, of course, find ZAIN ISP IPv4: 185.140.250.1 for testing latency and Ping.
When i will get my ordered server?
If you did pay via Paypal then you will get your vps provisioned in 6-24 hours but if it is through bank then you can get credentials only after confirmation of payment and in this case better to send the bank payment receipt.
Q: Will i get root access?
Ans: Yes, all installations are done with any OS to offer you access with root or Administrator user.
Q: What operating systems you can install?
Ans: While configuring your order, you can select a single operating system from a variety of Linux distributions and Windows versions.
Q: Can I host any kind of apps?
Ans: Sure, you can as it is your own machine but we never allow our servers to be used for any illigal purposes and spamming.
Q: How do I move record to my site?
Ans: You have boundless access by means of FTP 24 hours every day. All things considered, you can make and keep up your site pages alone PC and transfer documents to your site at your hands.
Q: Can I sub separate my space and sell it?
Ans: Indeed, we do enable you to make sub-registries which you can use to offer companions or customers space as long as it's inside our approach rules. You can likewise arrangement extra FTP accounts with constrained access to a particular registry.
Q: Which Hosting Control Panels are Available?
Ans: You can order cPanel/Whm or Plesk or even can buy third party control panel licenses and instruction to install on your server.
---
Tems and Services
No one is allowed to use virtual servers with any kind of illegal purposes, you are advised to read all terms and conditions before placing order because we are very strict for violations of ours, DC and Country origin legal terms.