Worldwide Web Hosting
"vpsandserver" is providing worldwide web hosting. As an organization of over 100+ employees worldwide, our support team is 100 percent online. We are currently working for many positions in the data center for web hosting services. With us, you can post your business website or web page on the Internet via web hosting. We provide the technologies and services that are needed for every website to be viewed on the internet. We have special and updated Hosting Servers through that, all worldwide users can have easy and fast action access to your website on their browser by browsing your domain name. It all is possible because we have introduced location based shared hosting by means of which you can select an origin which comes near to your audience. This practice will give you and your customers a best website browsing experience and highest local ranking in search engines like google.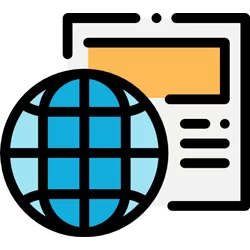 Web Hosting UAE

We have a large web hosting network with a range of hosting services. We offer a lot of exclusive choices for hosting. It has several cost-effective options for every hosting type you can choose from. If you are looking for a cost-effective plan for your medium or small business, choose one of its common business strategies. Our mission is to offer superior facilities throughout the Middle East. In all major UAE cities such as Dubai, Ajman, Sharjah, Abu Dhabi, and Ras Al-Khaimah, our performance shared hosting services are available at the most desirable cost along with the best customer service possible. Custom configurations are available upon request or you can avail UAE based VPS or Dedicated Server Hosting in UAE for even better solution.
Space
Email
# of websites
DBs
Free SSL
OS
Price
10 GB
10
01
5 MySQL
Yes

$250

/ Year
Order Now
50 GB
100
03
10 MySQL
Yes

$490

/ Year
Order Now
Unlimited
Unlimited
Unlimited
Unlimited
Yes

$690

/ Year
Order Now
---
Web Hosting Saudi Arabia

Those who need a precise, secure and updated shared hosting infrastructure in Middle East and specially with in Kingdom of Saudi Arabia must have a great interest in below optimized plans. You can select for both the major operating systems Linux and Windows and most renowned control web interfaces like cPanel and Plesk. Plenty of resources are available including Unlimited Bandwidth in each package to start though you can upgrade a plan at any stage. If your needs are not being fulfilled in less dedicated hosting type and you want this location too then we have vast range of Saudi VPS Hosting plans for your selection.
Space
Email
# of websites
DBs
Free SSL
OS
Price
10 GB
10
01
5 MySQL
Yes

$299

/ Year
Order Now
50 GB
100
03
10 MySQL
Yes

$599

/ Year
Order Now
Unlimited
Unlimited
Unlimited
Unlimited
Yes

$959

/ Year
Order Now
---
Web Hosting in Pakistan

If your audience belongs to sub-continent and you want to launch your website or app from with in this region and you want it to be done in fraction of cost then the best solution for you to have a shared hosting plan with a Pakistani IP though we offer dedicated infrastructure from this location too. You can buy VPS Hosting Pakistan or Dedicated Server in Pakistan from us in cheap prices too. Get high performance Hosting with Advanced system performance and device monitoring. You have to go for specific parameters and strategies that help you build a foothold if you're going to start a company in this digital-driven environment. It is the business plan, growth strategies, and the investment plan that must be built to form the framework of your project. Once all of the aforementioned items are taken into account, you will take on the promotional scheduling and policy. As per your needs, We handle the very best CPU nodes and big disc, LINUX/ Windows OS & Big Bandwidth Customization.
Space
Email
Bandwidth
Mysql (Linux)
MSSQL (Windows)
Addon Domains
OS
Price
04 GB
30
15 GB/mo
10
01 (0.5 GB)
Zero

$96

/ Year
Order Now
06 GB
150
25 GB/mo
20
05 (1 GB)
01

$139

/ Year
Order Now
10 GB
350
55 GB/mo
30
10 (1.5 GB)
02

$189

/ Year
Order Now
15 GB
Unlimited
80 GB/mo
40
10 (2 GB)
03

$219

/ Year
Order Now
30 GB
Unlimited
200 GB/mo
50
10 (3 GB)
04

$399

/ Year
Order Now
Unlimited Sub-Domains
Free 1-Click WordPress installation
Unlimited FTP Accounts
Shared IP PK based
Free SSL
Fair Usage Policy Apply
---
Bangladesh based Web Hosting

Dhaka based web hosting with process improved performance, management of technology and productivity. All windows-based plans are powered by Windows 2019, SQL 2017 & IIS 10.0., Ajax, Silverlight ASP.NET 2.0, 3.5, 4.0, 4.5 & 4.6x ASP.NET MVC 3, 4 & 5 with Razor whereas Linux based plans have Apache, MySQL 5.6 and all latest versions of PHP along with POP3, IMAP & Webmail. Specific requirements and techniques can be found to help you create a database once you start a business in this digital world. So there must be one plan which can accomplish your demands otherwise browse Bangladesh VPS Servers or Dedicated Server Hosting Bangladesh for heavy resourced or dedicated usage.
Space
Bandwidth
Email
DBs
Addon Domains
Sub Domains
OS
Price
02 GB SSD
50 GB/mo
50
10 MySQL
05
10

$39

/ Year
Order Now
05 GB SSD
75 GB/mo
100
20 MySQL
05
20

$69

/ Year
Order Now
10 GB SSD
100 GB/mo
150
30 MySQL
05
50

$109

/ Year
Order Now
02 GB SSD
100 GB/mo
50
05 MSSQL
01
10

$69

/ Year
Order Now
05 GB SSD
500 GB/mo
100
10 MSSQL
01
Unlimited

$119

/ Year
Order Now
10 GB SSD
500 GB/mo
250
25 MSSQL
01
Unlimited

$179

/ Year
Order Now
Asp.Net Core Not Supported
Linux, Secured by CloudLinux
No support for mysql and php in Windows
BDIX Connectivity
SSD RAID, 250K IOPS
Windows with SolidCP
Free SSL + Unlimited FTP Accounts
Linux with cPanel/WHM
1 Click Scripts in cPanel
---
Turkey Web Hosting

Do you have any upcoming or current project, you want to launch in between Europe and Asia, the best door for such events is Turkey. With us you can acquire a shared hosting platform to establish an online link from this territory to the world. The choice to have Turkish located web hosting is great if your viewership or buyers belong to Turkey. You can manage all your web projects together with our basic to unlimited hosting packages. Buy fast and uninterrupted hosting in affordable prices or secure a Turkey VPS Server or a Turkish Dedicated Server for huge resources and dedicated use.
Space
Email / Space
Addon / Sub-Domains
DBs / Size
Inodes
OS
Price
02 GB
Unlimited / 512 MB
0 / 02
01 / 500 MB
75000

$39

/ Year
Order Now
05 GB
Unlimited / 01 GB
04 / Unlimited
05 / 500 MB
250000

$65

/ Year
Order Now
Unlimited
Unlimited / 01 GB
09 / Unlimited
Unlimited / 750 MB
250000

$99

/ Year
Order Now
Unlimited
Unlimited / 01 GB
Unlimited / Unlimited
Unlimited / 01 GB
250000

$159

/ Year
Order Now
Virus and Spam Protection
Free Backup and Free Site Migration
High customer satisfaction
Unlimited Bandwidth
cPanel or Plesk Control Panel
Redundant DNS servers
Free Lifetime SSL Certificate
One click to install hundreds of scripts
LiteSpeed and 200% CPU Usage
---
Web Hosting in Netherlands, Germany and Canada

If you are looking for a cheapest shared web hosting solution along with higher number of resources with best available infrastructure, we recommend you to select any of the plan and finalize the location before checkout which suits you most. All hosting plans have same price for Linux / cPanel and Windows / Plesk. Germany and Netherland locations are best for European lower latency whereas Canadian location can achieve your goals of fast loading in North America. For more cheap dedicated hosting you can find different options like Germany based VPS Server, USA VPS Hosting or Russian VPS Hosting.
Space
Bandwidth
Email
Addon / Sub-Domains
DBs
OS
Price
01 GB
25 GB
10
Zero / 05
01 Mysql

$29

/ Year
Order Now
05 GB
60 GB
75
Zero / 10
01 MSSQL / 03 MySql

$45

/ Year
Order Now
10 GB
100 GB
100
01 / Unlimited
02 MSSQL / 04 MySql

$69

/ Year
Order Now
100 GB
Unlimited
Unlimited
04 / Unlimited
03 MSSQL / 05 MySql

$99

/ Year
Order Now
Same price for Linux and Windows
Plesk for Windows and cPanel for Linux
DDoS Protection
Down gradation / Upgradation
Managed Hosting
Free SSL Certificate for Life
---
Web Hosting in JAPAN

We deliver Japan's best and cheapest hosting platform recommended for those who want to start operating a website easily. As WEB server, database server, and mail server are distributed and operated by physical servers that specialize in each function, they are resistant to failures and operate stably! Compared to a general shared server that is integrated into one unit, it is resistant to failures and boasts high reliability. Speed up the display of CMS sites with HTTP / 2, which can process multiple requests at the same time, and the module version PHP7 + OPcache. Even if there is a large amount of access, Nginx is adopted as a reverse proxy and stable display is performed. Moreover, the WEB and DB are physically separated to distribute resources, and the high-performance Xeon server equipped with SSD executes a large amount of processing at high speed. We use a backbone line with ample bandwidth. We will also carry out timely enhancements to maintain a stable speed. You can also consider VPS Server Hosting in Japan at really low cost or for highly dedicated resources, buy a Dedicated Server Japan.
Web Server
DB Server
Mail Capacity / Accounts
Bandwidth
Free SSL
OS
Price
200 GB
10 GB Mysql
100 GB / Unlimited
160 GB
Yes

$439

/ Year
Order Now
300 GB
20 GB Mysql
100 GB / Unlimited
200 GB
Yes

$599

/ Year
Order Now
Nginx + Apache 2.4 series
Free 1-Click WordPress installation
Mysql databases
WAF / IPS are all free
Scheduled backup is free up to 10GB
Always SSL on all sites
---
What is shared Hosting?
It is the basic form of web hosting in which a dedicated server is being shared by multiple users/domains through a control panel interface usually like plesk panel and cPanel.
Do you offer Linux and Windows Hosting?
From most of the locations, yes. but not from all.
Hosting delivery Time?
Usually, it is done instantly but it can take up to 36 hours for delivering you hosting credentials.
---