Locations

Tokyo | Japan

Seoul | South Korea


Singapore


Stockholm | Sweden


London | United Kingdom


Amsterdam | Netherlands


Frankfurt | Germany


Madrid | Spain


Paris | France


Warsaw | Poland


Mexico City | Mexico


Toronto | Canada


Sydney | Australia

Los Angeles, Atlanta, Chicago, Dallas, Miami, New York (NJ), Seattle, Silicon Valley | USA

Cloud VPS Hosting
For a most robust, out of the box and advanced virtualization solution, now you can deploy your projects in readymade computes with a freedom to increase or decrease resources at any stage of surfing in form of upgradation/down gradation of plans. Under totally new hardware, with maximum speed and scalability, all servers are connected to latest networking equipment. Our cloud hosting helps you to draw from multiple servers with different network setup, offering you an inexpensive, flexible and extremely efficient hosting solution. Moreover, to make the best use of such cloud, you are hereby enjoying the same features and quality from number of Tier III international datacenters. You can deal with your needs, being up via least resourced plans for testing to production or reliable deployment of a high specification Cloud VPS. No problem, whatever operating system from Linux or Windows you want to get installed, we have about all commonly used. In case your desired location for cloud computing is not available below to order, you can always search through our custom VPS Hosting Plans.
Gaming or Proxy
Shared 10Gbps Port
Reverse DNS
Low Local Latency
1-12 Hours Delivery after
SSD Storage
KVM Virtualization
Linux / Windows OS
Various IP Ranges
Cloud VPS Plans and Pricing
Financial needs and concerns have been taken into account in our Cloud server systems. You can continue to improve your business performance through insightful comprehension of nodes when you are to deal with more traffic or require immense data storage. In accordance with clients requirements, we have various affordable and reliable options for Cloud based instances.
# of Cores
RAM
SSD Storage
Bandwidth
OS
Price
01
1 GB
25 GB
1000 GB

$23

/ Month
Order Now
01
2 GB
55 GB
2000 GB

$38

/ Month
Order Now
02
4 GB
80 GB
3000 GB

$59

/ Month
Order Now
04
8 GB
160 GB
4000 GB

$111

/ Month
Order Now
06
16 GB
320 GB
5000 GB

$215

/ Month
Order Now
08
32 GB
640 GB
6000 GB

$298

/ Month
Order Now
01
2 GB
55 GB
2000 GB

$55

/ Month
Order Now
02
4 GB
80 GB
3000 GB

$99

/ Month
Order Now
04
8 GB
160 GB
4000 GB

$199

/ Month
Order Now
06
16 GB
320 GB
5000 GB

$299

/ Month
Order Now
---
DDoS Protection
For continuous uptime and as an extra layer of security, safety and intrusion prevention, DDoS feature with any ordered slot can be activated as an additional service, by default it is not included but you can add it in your cart at any stage of usage.
Instanat Loading
As you are more precisely picking the virtual server from a destination which is near to your audience so along with this supremacy of lowering latency, 1 gbps internet connection and SSD storage will fuel up your load ability.
Latest Equipment
Including servers, cabling, firewall, memory, processors and routers, about every element required to run cloud infrastructure is deployed as new to guarantee maximum redundancy and minimum failure of hardware when you are live.
Play Secure with Convenience
Attach the best suited elements to your container for managing it easily with all value-added features as we understand that it is always different requirements and around in 50% cases, people do not rely simply on a basic machine. We have listed various protection and efficiency boosted value added services which can be obtained under any cloud VPS to increase the productivity. Purpose to not adding them in initial configuration is to lower down the cost and cause of offering them is to provide and extra utility for adding convenience to your work. If you are still missing something and looking for any extra feature which is currently missing in the list, feel free to contact sales and inquire. We will see and offer you what best help can be offered in correct direction.
Boost Computing Experience
Available Addons
Additional IPv4
DDoS Protection
Snaps and Backup
Windows Server 2012R2, 2016, 2019, 2022
cPanle / Plesk Obsidian Licenses
Cloud VPS FAQ:
Actual purpose of both is same but main difference is that in Cloud computing, you can enjoy the liberty of upgrading and downgrading without any additional effort of moving and configuring data on new machine whereas in VPS server, at the time of extra resources required, you must have to have a new vps with more specs and to move data and configuration manually.
Though the process of provisioning a cloud instance is instant but for security and authorization, we commit to send login credentials on your email address from 1-24 hours after confirmation of payment.
At checkout, you can choose PayPal or Crypto Currency as gateway to pay via credit/debit cards or through BTC.
Whatever, operating system you need or you have in your mind, you will get it as a firstly installed or lately re-installed. in certain cases, we also offer custom ISO.
Yes, you can order snapshotting or backing up as an extra addon.
Along with a main IPv4, you can always buy 2 separate assigned IPs but nothing more than that.
As we are here with the purpose to keep your box up all the time for valid usage so in case you will use more than allocated bandwidth, you will be charged for overused bandwidth as $0.025 per GB.
Yes, every provisioned instance will be offered with root privileges.
---
Any Cloud VPS relevant Query?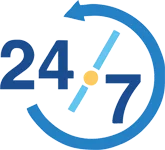 ---