Worldwide Shared Hosting
We are here to show all customers worldwide our best and most satisfied shared hosting services. We are deeply concerned with the growth of our customers in today's market. In general, we are a reliable hosting distributor in the world. Our services boost their shared servers around the globe by providing customers with the full support they need. Our business aims to turn the brand of our product with trust and to improve our consumer service in general. We now have several hosting options worldwide. On high-speed hard drives, the new shared servers are easy and quick to use. The new shared servers can be quickly and easily used on high-speed hard drives.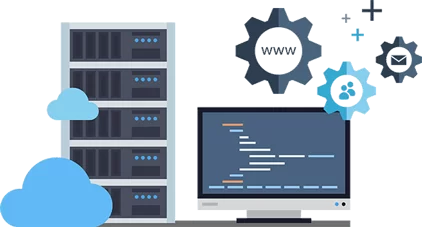 DDoS Protection
Reliable Surfing
24*7 Support
Low Latency
Security Firewall
Data Center Migration
Tier-3 Datacenters
Fast Internet Connectivity
Physical Security
We have different manageable easy steps for buying our shared plans
With just one tap, you can now order to compile our best plans. With your preferred option, we have different payment methods available. Tap and get to the transaction page of your calendar. You can accomplish your target within a limited time of launch. Our support team is always available to you.
---
Each company needs the best tools and solid foundations to flourish
Our data centers have been reported to have a uptime history of 99,999%, which means that downtime every month is on average 2.6 seconds. We also sell a 100% Up-time SLA, which gives credit for 1000 percent of possible downtimes. In short, peace of mind is open to you. we have various affordable and reliable options including modern dedicated and VPS products.
---
Free Software Installation
We can install any documentation on your server during the first month (e.g., cPanel, Plesk).
Performance Monitoring
Our Safe Customer Portal gives you efficiency charts for CPU, RAM, DISK IO and Network Traffic.
Security License
We have firewalls of next generation, intrusion prevention, security for web apps, DDoS protection, prevention for malware and viruses. However, we have SSL certificates, IP and spam filtering.
Replacement Guarantee
In the event of a server failure, our engineers will replace it quickly with an equal or better system without any cost, and we will always have a wide range of replacement parts on hand.
24/7 Support
A highly qualified technical support team is always ready to face any challenge.They have the experience and can solve any problem efficiently.
99.9% Connectivity
If network failure occurs, we'll send you every hour of connectivity free value to your client. You can add our remote backup value-added services. You can take planned off-site backups from our backup service.
Operating System Choice
You have the freedom to choose a particular hosting solution with your own operating system. HPC or (64-bit processor) high-efficiency versions such as the Windows Server OS and Ubuntu Business or Corporate Data Center or Cloud Versions. Eligible for Windows Servers. Our dedicated Ubuntu servers are the best networking options. With our high-power data and our Turbo service, you can truly bring your business and your website to the next stage with 20 times faster page loads than our competent hosting service for Linux.
Best Hardware
Friendly Interfaces
Server Adaptability
Memory Enhancement
Multi Tasking
Betworking Capability
Logical Security
File Management
Security and Firewall
Frequently Asked Questions:
Q: What is shared hosting?
Ans: Shared hosting is a type of web hosting, where many web hosting clients share a single server (virtual or physical).The customers in a shared hosting environment are divided, so they don't have access to the other files and ideally, they don't even know each other.
Q: Do I need SSL?
Ans: Yes, If you handle sensitive customer data, you need an SSL certificate. Ecommerce sites, where credit card payments are usually handled, certainly need an SSL certificate.
Q: What kind of Servers do you use? In addition, shouldn't something be said about move speed?
Ans: All PC structures are custom-develop giving improved degrees of control, flexibility and the ability to remotely imagine and resolve issues before they impact your administration.
Q: Do you make security settings and optimization?
Ans: All server orders are given important security setups and improvement methodology before conveyance, and your side is conveyed in this way.
Q: Which Hosting Control Panels are Available?
Ans: Every committed or VPS are constrained by an apparatus called a virtualization board, Control Panel. This apparatus enables you to restart all VPS or separate administrations like HTTP, MySQL, and so on., to screen and deal with every single running procedure and to screen the framework assets devoured and accessible. You can likewise set up server-side projects for some content fueled frameworks to work, show far-reaching Traffic Statistics and Background for every one of the exercises running on the VPS since you will have full root access.
Q: What is contrast among Windows and Linux facilitating ?
Ans: Two sorts of working frameworks are Linux and Windows. Linux is the most generally conveyed webserver working framework. At the point when Linux-based facilitating is increasingly normal, website specialists envision greater usefulness. However, Ubuntu is the favored decision, except if you have sites that need explicit Windows applications.
Q: Could my facilitating approach for Linux Reseller update if essential?
Ans: Sure. For sure, sure. You could overhaul your Web Hosting Plan in like manner as your organization needs extend. So as to choose a redesign, the value distinction of the facilitating plan must be paid.
---